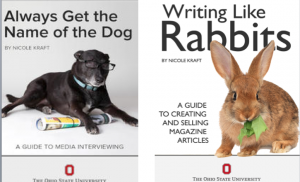 Nicole is the author of two interactive textbooks available on iTunes:
Writing Like Rabbits, released in August of 2104, is a step-by-step guide to finding, writing and selling magazine articles.
Always Get the Name of the Dog, released in August 2013, is a guide to media interviewing in all its forms.
Both retail for just $1.99 and include numerous examples, video interviews with industry leaders, and a clear, concise, engaging style that will serve any reader.