In the fall of 2010 I left the world of full-time professional journalism to join the faculty at The Ohio State University, and it was the best move I ever made!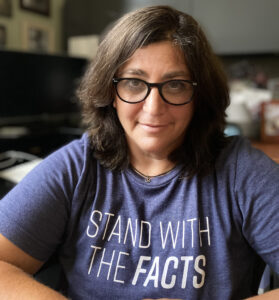 I started my journalism career early, crafting my first construction paper newspaper when I was 8 and working as a photographer for my father's horse racing photography business, getting my images published in a variety of newspapers and magazines–including the Los Angeles Times, Sacramento Bee, and Sports Illustrated. I began submitting freelance articles from the age of 16, the same year I left my hometown of Capitola, Calif., to head east for college.
I spent a year serving as an intern in the publicity department of the Philadelphia 76ers with the legendary Harvey Pollack before working as a reporter and editor at Montgomery Newspapers outside Philadelphia during my pursuit of a political science (journalism minor) degree at Temple University (Go Owls!).
After graduating magna cum laude from Temple, I left Montgomery Newspapers to work as press secretary for Jon D. Fox, who served as congressman for Pennsylvania's 13th district. My husband, Brian, and I eventually headed back to California where I was Upvalley and Design editor, for the Napa Valley Register as well as an award-winning special projects reporter.
In 1995, my horse racing background combined with my journalism experiences as I was hired as associate editor of Hoof Beats magazine, published by the United States Trotting Association in Columbus, Ohio. In my 15-year tenure there, I rose to become executive editor of Hoof Beats (and led it to numerous awards, including General Excellence) as well as director of communications.
I am now an associate professor of  journalism practice, teaching Writing and Editing for Media, Feature Writing, Sports Journalism and Media Law and Ethics as live, hybrid and online classes. I help to advise The Lantern, Ohio State's award-winning student media, especially in areas of sports, breakings news, and law and ethics. I am also director of Ohio State's Sports and Society Initiative and have taught courses to prepare first-year students, many of whom are student-athletes, to use technology to help navigate the academic rigor of college life.
I also travel the country teaching student-athletes how to use mobile technology in education, and in my "spare" time am the Associated Press beat writer for the Columbus Blue Jackets and also cover horseracing for the Columbus Dispatch.
In 2018 I earned my doctorate in educational leadership with a technology focus from Lamar University, as part of a cohort of Apple Distinguished Educators.
I am grateful to have been recognized for my teaching by many organizations of which I have the highest level of respect and admiration. They include:
2012 Award for Outstanding Commitment to Student Education, Panhellenic Association
2014, Innovative Outreach to Scholastic Journalism, AEJMC Scholastic Journalism Division
2015, Apple Distinguished Educator
2016, David Adams Teacher of the Year, AEJMC Scholastic Journalism Division
2018, Teaching Award, AEJMC Media Ethics Division
2019 Teaching News Terrifically First-Place Award, AEJMC Newspaper and Online News Division
2020 Outstanding Woman in Journalism and Mass Communication, AEJMC Commission on the Status of Women
2022, Linda S. Putney Teacher Inspiration Award, Journalism Educators of America
2022, Ohio State Alumni Award for Distinguished Teaching
2022, Induction into the Academy of Teaching
2022 Outstanding Student Engagement Certificate of Recognition, Pearson
2023 Career Services Award, University Career Services Committee
2023, Career Services Faculty Champion, ASC Career Success
My husband, Brian, is a teacher of children with special needs in Columbus City Schools, and our son, Danny, is in his final year at Ohio State in industrial design. He currently works as the lead graphic designer for Ohio State football.
But my home away from home is Ohio State. Whether it is working with my students, my communication colleagues or elsewhere in the university, I love every minute!