This has been a year of speaking–literally from New York to California to Texas–spreading the iTunes, flipped class, social media word as it relates to journalism.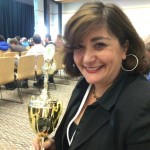 The winter brought trips to Apple on both coasts–a "showcase" event filmed in New York and an Education Seminar filmed in Cupertino, Calif.–as well as an appearance at SXSWedu in Austin.
Some recent opportunities have been among the most fun, mostly because they involved collaborating with friends who often feel more like family.
A recent weekend, it was the Society of Professional Journalists Region 4 conference, where Doug Haddix and I teamed up to present social media use from the classroom to the news room. Before that, it was Innovate Oho State where a reboot of the SXSWedu talk I gave with Ben McCorkle and Jim Fowler seemed to go over well with the home crowd.
The most exciting opportunity lasted just five minutes but brought home the biggest hardware–the Steal My Idea contest at Innovate. The idea: in 5 minutes sell a panel of judges on one idea worthy of stealing. My idea: "Don't Fear the Tweeter," or how tweeting attendance, can help students learn to use social media for good and not evil, brought home the much-coveted first place trophy?
Want to steal it? Check out the video below: