Every semester brings with it anticipation, excitement and trepidation. It is a beginning in so many ways — meeting new class friends, trying out new teaching techniques, exploring emerging topics and technologies.
This semester is also, for our family, the beginning of an end.
Our son, Danny, is beginning his final year of school. I was tempted to write he is approaching his last year at Ohio State, but it's far more than that. After 18 years, six schools and more growth than is measurable, this is the last first-day of school we will ever experience together.
And it's hitting us both in different ways.
Although Danny's passion lies in his graphic design skills and career, and not in our academic space, he admits feeling sadness that his years at Ohio State are coming to an end.
After high school he sought a new adventure away from his Columbus roots and spent his collegiate freshman year at West Virginia University. It was far from almost heaven for him.
A feeling of isolation compounded by the COVID-19 epidemic made a return home a logical (and healthier) option. He soon embarked on life as Buckeye–and he began to flourish and grow.
That graphic design passion led him to the Department of Design, which welcomed him into the industrial design cohort. That graphic design skill led him to Ohio State football and athletics, where he has risen to be the talented and valued head graphic designer. If you follow the Ohio State football team on social you have likely seen and admired his extraordinary work. He has already received job offers that would pay him three times more than I made in my first, second and third jobs out of college.
Ohio State has prepared him well to be full and functioning in the "real world," but he knows he will miss it–the routine, the friends, the proximity to so much, the summer/spring/fall/winter breaks.
What I will miss, however, runs much deeper.
There is no good alternative to your child growing up and leaving home, but it does not make the final closing of that door any easier.
I still remember the tie-dye shirt Danny wore his first day of kindergarten proclaiming "peace, love and horse racing" and the report card that said he was "kind and compassionate to his classmates." I remember first grade when his teacher said she wished Danny was not so much of a rule follower  and would get in trouble once or twice.
I remember the tears he cried arriving at school every day of second grade, when he left his father at home fighting a battle with non-Hodgkin's lymphoma and worried he would not be there upon return. That year Danny also joined his first hockey team, a passion he carried seemingly since birth that earned him the moniker "Danny the Hockey Boy."
I remember  third grade when he was bullied by one boy who was formerly a best friend–who also happened to be the son of his teacher. I remember fifth grade when he and Brian joined Ecole Kenwood on an amazing trip to Canada and he was the youngest player on an after-school baseball team and hit the ball as far as anyone.
I remember seventh grade when a COTA driver would not let Danny board the bus with a discounted child pass because she did not believe he was only 12 years old–and he got on the news because of it. I remember 8th grade when he got his first girlfriend on the school trip to Washington, D.C, even though she only lasted a week. The same year he roped a grand-slam walk-off homer in summer baseball.
I remember buying his first Bishop Watterson school uniform in 9th grade, along with his first high school hockey uniform. I remember fighting with his algebra teacher over grades that seemed–and were–unfair.
I remember sophomore year pulling him from school for a five-day spring break visit to my hometown of Santa Cruz, California, where he drove 17-Mile Drive along Pebble Beach at the age of 15 (shhhh–don't tell the rental car company). I remember coming home from that trip to find out he had a big paper due the next day and the screaming match that ensued where I told him he'd never get into college. He responded with the most prophetic words possible: "Mom, in three years none of this will matter."
Junior year I remember his Watterson family gathering with tears and love after their classmate died by suicide, and of the magical hockey season that brought home a division title.
Senior year I remember crying–a lot–especially after his last hockey game loss and at graduation, feeling that everything wonderful was ending and the person I knew was, in a way, dying.
Indeed, Danny the Hockey Boy was reborn as Danny the College Boy.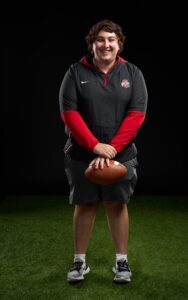 College has been a time of growth beyond belief. Freshman year in West Virginia. Covid-19. Moving back to Columbus into a house of his own. Coming to Ohio State. Entering industrial design. Joining the Ohio State football creative staff. Making coasters for his class marketplace project. Making the Dean's List. Making lifelong friends. Traveling to bowl games in LA and Atlanta. Joining Paris Johnson in the green room at the NFL Draft. Studying abroad in Europe.
It has been a time of magic.
And now the greatest magic trick of all comes for us. Watch Danny the College Boy disappear. In his place will be Danny the College Graduate. Danny the Adult. Danny the Man.
Where that Danny goes is anyone's guess. We selfishly hope he gets offered the opportunity to stay a creative at Ohio State, but the opportunity he chooses–or chooses him–must benefit him and him alone.  Maybe he will go somewhere we love like Philadelphia or New Orleans, and we will follow him. Maybe he won't–or he won't want us to follow him.
All that matters is he remembers.
He remembers the life we shared.
He remembers the experiences that shaped him.
He remembers the friends and family who love him.
He remembers the values and character that have made him such an amazing person since the day he was born.
And he remembers that no matter where he goes, or what he does, he is loved.
We have one last glorious year of school left. We did our annual start-of-year dinner on Monday, moving up to a steakhouse from Wendy's and Rooster's. We toasted all that has been accomplished and all that is yet to come.
Yes, this is an end. But it is also the beginning of an extraordinary life. I cannot wait to see where the adventure takes him.